2011 Journey to India
In November of 2011 I will be leading a long awaited trip to India, exploring the parts of India that let you feel part of the greater reality and not just a viewer from the outside. Although, every step you take while in India seems to give way to something deeper and greater, in my many visits to that sacred place, I have come to find a few places/experiences that should not be missed. If you feel the call inside to go to India, to break away from the familiar and to discover some things about yourself that you may have never realized were there, then I hope that you will make this journey with me.
First stop!
Chenna
i: Chennai is one of the largest cities in South India (formally known as Madras) and will be our landing and assimilating grounds.
Chennai is a coastal city that in spite of its large population maintains a sense of relaxation and tropical color.
From Chennai we will head a short distance north to the smaller city of Nellore. Nellore is the home of
Little Hearts Orphanage
run by Mr. Kumar his family and a small group of employees. This orphanage receives funding from an NGO, the River Fund and my organization Beyond Measure Arts. In 2010 I spent three days visiting Little Hearts and another nearby orphanage they are running. It is the moments you spend with these children that will stay with you.
While visiting Little Hearts you will have the opportunity to share. Whether you do an art project, sing a song, show them a science experiment, or just play games, the children will benefit from YOU. And you will undoubtedly benefit from them. I am incredibly happy to let you share in this experience. We each have something to offer, you may not have pinpointed it just yet... but it is there. And no matter what, your presence will make a difference.
From Nellore we will board a train for Mysore.
Mysore
is a special city by Indian standards... you will be surprised by how orderly and bright it is. Mysore is famous for many reasons including Mysore Palace, silk, sandalwood, Chamundi Hill (the site of the mythical slaying of the demon Mahishasura), the Ashtanga Yoga Research Institute and the ashram of Sri Ganapati Satchidananda Swamiji.
Mysore is a place where you can offer up your own wishes, prayers, and truths to be honored amongst the rituals of Hinduism and the traditions that have been practiced here for thousands of years.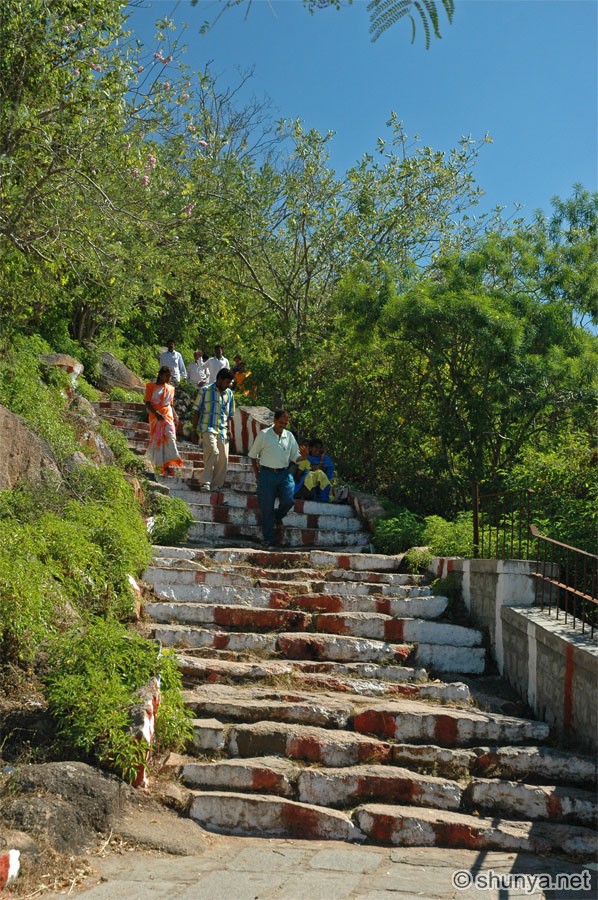 Here we will climb the 1000 steps of Chamundi Hill with the other pilgrims to reach the 7 story gopuram (temple).
Once we reach the top you can make an offering of flowers and fruit and view the inside of the temple.
Sri Ganapati Swamiji is a unique man among Indian gurus. Like many gurus his story of birth and his youth contain many miraculous events and he has devotees spanning the globe (indeed a woman from Zimbabwe was how I came to know him) but his darshan (sacred blessing) is given through music. Although never formally trained Swamiji his music reaches millions in India. His ashram is also one of the most beautiful and peaceful places of rest in all of India. Is it any wonder the leaves on all the trees there seem just a little bit brighter?
Of course one of the best ways to experience a new place is the market. The Devaraja Maket in Mysore will bring color, smells, sounds and the beauty of much of what south India has to offer to one place.
"God's Own Country" is the famous slogan for
Kerala,
t
he south-western most state in India and arguably the most beautiful one. On my first trip to Kerala I thought I had won the lottery. The views of the spice hills, the slow moving richness of the backwaters and the FOOD! Amazing coconut infused food was exactly what I had hoped for without even knowing it.
Most tourists to Southwest India make a stop at the famous beaches of Goa, Kerala's northern neighbor. But it is Kerala, the one state in India boasting 100% literacy and a huge mixture of religious diversity that most Indians consider paradise.
The Spice Hills and Thekkady:
Here you will take in all of India's natural beauty and wildlife. A tour of a tea plantation and the spices that have sustained the livelihood of these hills for many years will give you great appreciation for the ingenuity of the Indian people and their way of life.
The backwaters:
Let's just say that no trip to Kerala is complete without a tour of the backwaters. You'll hear the quote "The Venice of the East" many times, but what is most unique to this place is the life happening on the water. Viewing the daily rhythms of the backwater and the people whose sidewalks and roadways float along with you is a rare experience.
It is these last few days in Kerala that will give you time to reflect and absorb all that you have seen on your journey. Kerala along with its many other wonders is also home to many Ayurvedic (traditional Indian healing) establishments. I would highly recommend a massage or two (even though you will smell like massage oil for two days :) or any other treatments of this sacred science of India.
This trip will keep with its schedule and its many destinations, but the real journey will happen in the unexpected moments and just being in each place you are at. What India can teach you about yourself cannot really be described in words, but there is a deep trust that I have developed in the ways of this country. The energy of this place that is so potent.. no one whose eyes are open and whose heart is willing will ever be the same.
Wishing you a Happy Journey every day,
Jessica Martin